Found something that you like, but it's currently not available in the store?
don't worry, we've got you covered.
Sometimes, the store isn't always stocked with the items that you'd like. Maybe the particular piece you'd like is sold out, or you fell in love with something you saw on our instagram feed. Maybe you just don't feel up to ordering a full custom just yet. Whatever the reason is, it's now super easy to order the product you want! Simply fill in the form below and I will get back to you with a price quote. If all is agreeable, I will create the product and list it in the store, just for you!
Please ensure that you've read and understood our Terms and Conditions before placing an order.
isn't this an unpleasant sight?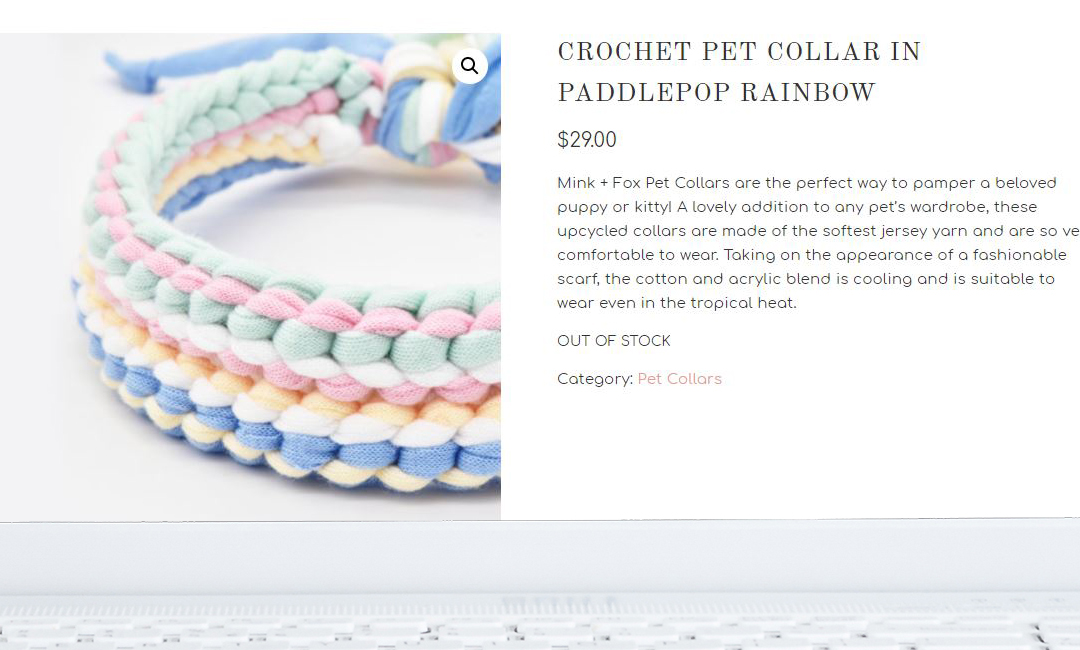 Being an avid shopper myself, I can't help but grumble every time I see those dreaded words attached to a product that caught my eye.
out of stock
no longer in production
only available till Christmas [ last year ] 
Nasty little words to dampen any shopping experience. Having experienced this frustration myself, I've created this option to breathe new life into products that are currently stuck in dusty corners of our store inventory and offer customers a chance to acquire products which they would otherwise have missed out on.
What products can be ordered?
These are examples of products that you will be able to order using our
Request a Product

service.
Products that are currently

out of stock

.
A product that has been

retired

from the store.
A

past seasonal design

that is currently unavailable.
A product that is currently showcased in our

portfolio

.
A product that was featured on one of our

social media pages

(eg on instagram, facebook etc)
What products can NOT be ordered?
Products that were listed as

Limited Edition

.
Products that were listed as

OOAK

(one of a kind).
Products made with yarn that are currently

out of production

.
Turnaround Time
Generally, the turnaround time depends greatly on whether I currently have the necessary colours in stock. If a certain colour is out of stock, I will have to place an order for it which will result in a slightly longer wait.
For a conservative estimation, the turnaround time will range from 5 to 15 working days. I know it seems long, but the waiting time ought to be shorter than this estimate. In the event of any delays, I will be sure to update you as soon as possible.
I will email you with pictures of the product when it is completed. Once you have approved the product, I will create a Reserved Listing for you in the store.
What will the pricing be like?
The good news is that if unless you make requests for certain additions (such as adding beads when there were none in the existing design), the price for a product ordered using this service will more or less be the same price that it originally sold for. This ranges from $29 to $35 for a pet collar, $29 to $45 for a necklace and $8 to $50 for a trinket holder. For a more accurate price quote, please fill in the form below. Make sure you list any changes you would like to make as this might incur a small fee (eg $2 for each additional bead, $5 to upgrade a self tie design to a stainless steel clasp etc).
Like all custom requests, a mandatory deposit of $10 will be collected once you confirm that you'd like to proceed with the order. This deposit will be deducted from the final cost of the product; however, should you decide not to purchase the listing, this deposit will not be refunded.
For example, if you place an order for a Pet Collar in Paddlepop Rainbow without any additions or upgrades, the total price will be

$29

.
Upon committing to the purchase, I will create a listing for the

$10

deposit. Once payment is received, I will begin the creation process.
Once the product is ready, I will email you with pictures. Upon approval, I will create a custom listing to collect the balance of

$19

.
ready to commit?
Place an Order
By submitting this form, you will receive a

non-obligatory

price quote. If you decide that the price falls outside of your budget, we can discuss our options further. Should you decide not to follow through with the purchase, that's perfectly fine as well! 
If you require any help with filling in the form, feel free to send me a mail at customs@minkfox.com.