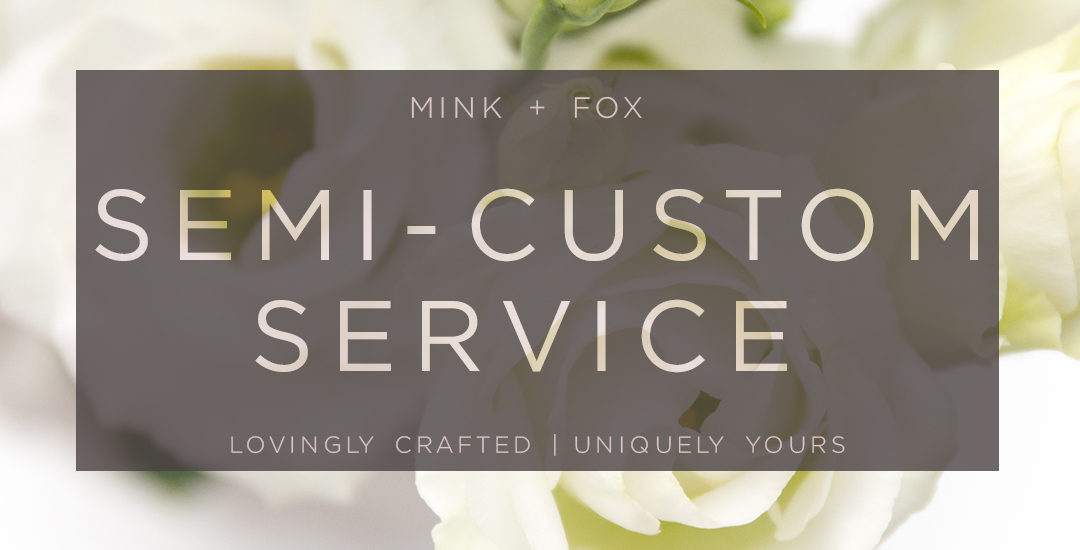 Ever feel like just a slight change would make that product perfect?
we've absolutely felt the same way.
Ever spent hours staring at a necklace and admiring the colour scheme, only to close the tab because you really just don't wear necklaces. You absolutely need a little dish for your keys and other knick knacks, but none of the ones listed in the store are to your liking.
If only they came in the same colour scheme as that necklace.
If you've ever felt that way, our Semi Custom Service would be right up your alley! This service allows you to request for partial changes to be made to existing Mink + Fox products. Think of it as fitting certain different jigsaw puzzle pieces together to form the perfect image. It's a great way to personalize a product without going through the more in-depth process of a Complete Custom.
---
Please ensure that you've read and understood our Terms and Conditions before placing an order.
---
just picture this
— insert series of pictures —
With our Semi Custom Service, it has never been easier to fine tune a stock product and transform it into the perfect gift for you or someone you love. No change is too mundane or small – we'll work with you to make it just perfect.
---
How can I personalize my order?
This option is perfect for customers who would like a bit of personalization or minor changes in an existing Mink + Fox product. Feel free to request for:
Small colour changes

in an existing design.
Changes in

size / length

of an existing product.
Combination of

2 colour schemes
The creation of a

different product in the same or similar colour scheme

of an existing / retired product. For eg, a necklace in the same colour scheme as a trinket holder or pet collar.
Do note that not all colour schemes can be applicable for a certain product. I'll do my best to fulfill all requests as best as I can, but realistically, some changes might not be entirely possible.
---
Turnaround Time
The turnaround time for our Semi Custom Service depends on the complexity of the changes requested as well as my current supply of yarn. Bigger changes such as creating a trinket holder in the same colour scheme as a necklace will take a longer time than simply switching out a coral pink shade for a mint green one. Also, if you request for a colour scheme from a seasonal product, I might not have the required yarn in stock. This will also lengthen the turnaround time while I wait for the yarn to arrive.
For a conservative estimation, the turnaround time will range from 5 to 15 working days. I know it seems long, but the waiting time ought to be shorter than this estimate. In the event of any delays, I will be sure to update you as soon as possible.
I will email you with pictures of the product when it is completed. Once you have approved the product, I will create a Reserved Listing for you in the store.
---
What will the pricing be like?
A Semi Custom order is basically the base price of the original item + the cost of additional changes. For minor changes, there will be no additional charges incurred.
Typically, the base price of existing products are as follows:
Necklace :

$29 to $35

Pet Collar :

$29 to $35

Trinket Holder :

$8 to $40
These are additional charges to the base price of the original item.
Petite

$0
Small Colour Changes
Increase length / width
Regular

$2 – $10
Add beads ($2 per natural wood bead, $4 per hand painted bead)
Upgrade to a stainless steel clasp ($5)
Combine 2 colour schemes to create a new one ($2 to $3)
Complex

$5 to $10 
Creating a new product with the colour scheme of an existing one
Other more complicated requests (ad hoc charges)
An example of the pricing is as follows :
A customer orders a necklace that costs

$29

in the store as a base product.
She adds on

a pair of natural wooden beads

incurring an additional charge of ($2 * 2 = )

$4

.
She opts to

upgrade

the self tie clasp to a

stainless steel

one, incurring an additional charge of

$5

.
She makes a

small change to the colour scheme

. This change is a simple one, so it's

complimentary

.
The final price of her

Semi Custom Product

will be $29 + $4 + $5 =

$38.
For a more accurate price quote, please fill in the form below. Please be as detailed as you can be about the changes that you'd like to make so that I can give you as accurate a price quote as possible. This will also ensure that the customization process is more seamless because I will have a clearer idea of what you're looking for.
Like all custom requests, a mandatory deposit of $10 will be collected once you confirm that you'd like to proceed with the order. This deposit will be deducted from the final cost of the product; however, should you decide not to purchase the listing, this deposit will not be refunded.
For example, the total price of the above customer's order is

$38

.
Upon committing to the purchase, I will create a listing for the

$10

deposit. Once payment is received, I will begin the creation process.
Once the product is ready, I will email her with pictures. Upon approval, I will create a custom listing to collect the balance of

$28

.
---
ready to commit? 
Place an Order
By submitting this form, you will receive a

non-obligatory

price quote. If you decide that the price falls outside of your budget, we can discuss our options further. Should you decide not to follow through with the purchase, that's perfectly fine as well! 
ORDER A NECKLACE
ORDER A PET COLLAR
ORDER A TRINKET HOLDER
If you require any help with filling in the form, feel free to send me a mail at customs@minkfox.com.
---